5 Ways to Childproof Your Windows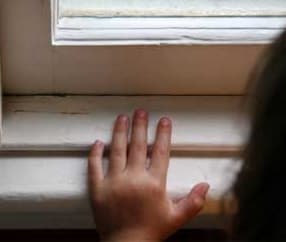 We've all heard that most accidents happen at home. But did you know that accidents occurring in the home cause more injuries and far more fatalities to children than anything else?Just as fire can be a fatal hazard, especially for kids, windows pose a very real threat as well. One recent study, offered by the Journal of Pediatrics, put the number of serious injuries to children who fell out of open windows and had to be taken to the hospital at over 5,000 each year. What's surprising is that 83% of those incidents in the study involved screened windows! Obviously, windows, even screened ones, pose a threat to infants and toddlers, and even older children at times.For children, falls are the most common home accidents, by far. Kids play around, and they're not too conscious yet about the risks life holds for us all. If a child falls through a second-story window, the result is not the same as it would be for an adult. And it's evident that, all too often, screens only protect from mosquitoes.
5 Ways to Protect Your Child from your Windows
1. Childproof Window Locks
Locking all the windows in the house is the most effective way to childproof them. There are locks for every kind of window, too, like an easy-to-install lock for sliding windows or a handy double-hung window lock.
2. Childproof Window Guards
Window guards are grille-type protectors that work with almost any size window. The government's Consumer Product Safety Commission recommends that you install them if you have babies or toddlers in the house. The government strongly suggests that you choose window guards for your childproofing needs because they are hard to open for young kids, but easy to open for adults in case of an emergency.
3. Childproof Window Screens
Window screens alone won't keep your child from falling through them, and for that reason, window guards are your best bet. There's no such thing as a childproof window screen.
4. Childproof Window Blinds
To prevent accidental strangulation from blind cords, replace all old window blinds with cordless shades. If this isn't an option, you might just want to sit down with your child and review these great childproof window safety videos from Parents for Window Blind Safety instead.
5. Childproof Window Stops
These nifty items help you control the opening size of your windows. Some, like this Parent Units Super-Stopper, simply attach with suction. They work great, and look great, too.
Other Advice Tidbits
Talk to your child about why windows and heights can be dangerous.
Remove cranks from windows that require them to open.
Keep window areas clear of furniture, which acts as an invitation for curious tots.
Don't leave young children unattended.
Ready to replace your old, potentially dangerous, windows? Call The Window Source of Des Moines for all your replacement window and door needs!