Ten DIY Window Box Planter Ideas
Even though the inconsistent weather has put a temporary halt on our front door project – I refuse to stop thinking about bright and cheery, flower filled, outdoor projects for spring…
and this week I'm thinking about window box planters.I have always loved the charming look of window box planters – especially when they are overflowing with blooms and trailing vines. While many catalog window boxes carry a pretty hefty price tag, building your own box planter is a fairly simple project you can do yourself – and save lots in the process.
1: Ceder bracket box

This easy to moderate window box planter from DIY Network uses custom cut brackets fitted to your siding to support the weight of the box. They suggest using Cedar to construct the box which is not only decay-resistant, but affordable as well.
2: Painted wooden window box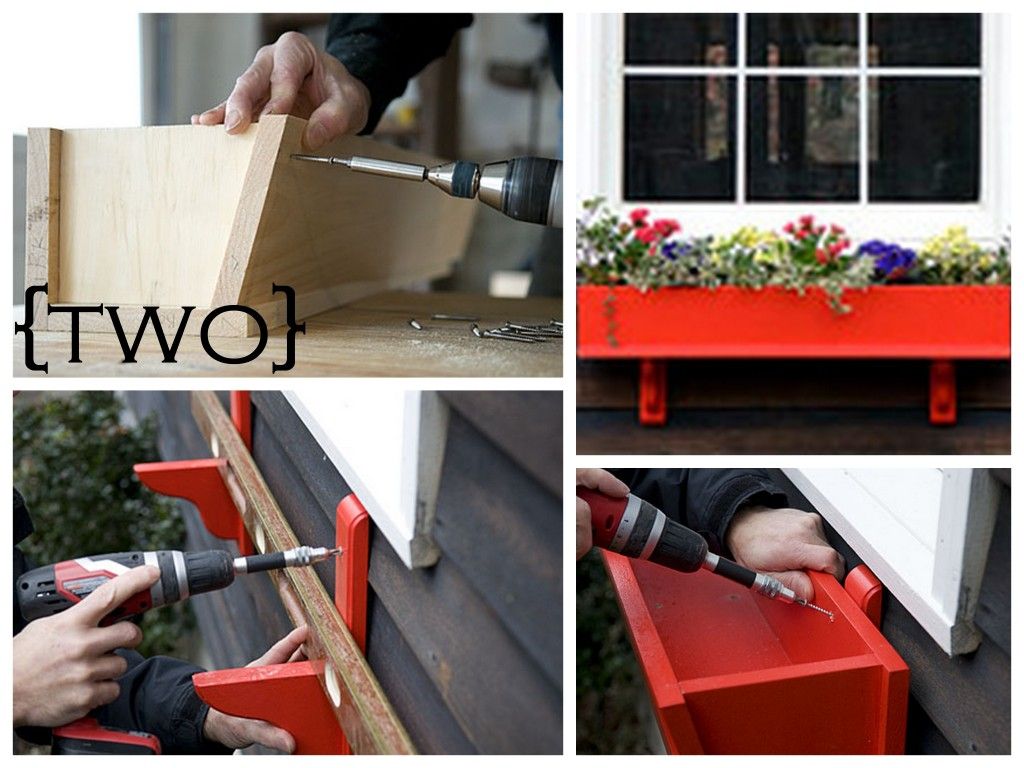 Add a splash of color to your window sills with these painted wooden window boxes from Popular Mechanic. The box itself is a basic trough design supported by two hefty handmade brackets. The site includes a step by step tutorial as well as printable pdf plans.
3: Mission style window box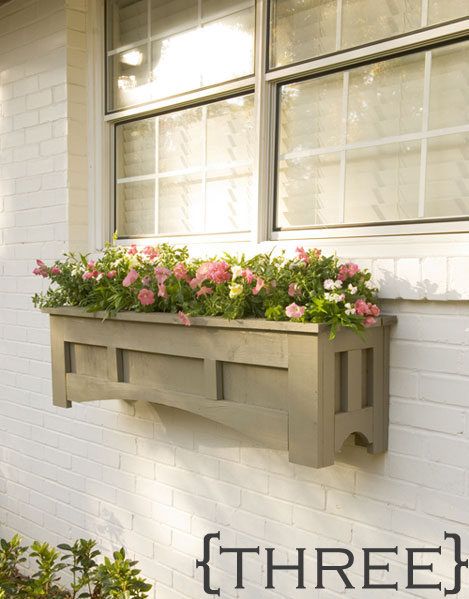 Cut 1X4's and plywood add a mission style feel to this window box from Lowe's Creative Ideas. Unlike the other boxes which use brackets, this box is hung using a wooden cleat attached to the exterior wall – from which the box is then secured.
4: Decorative molding window box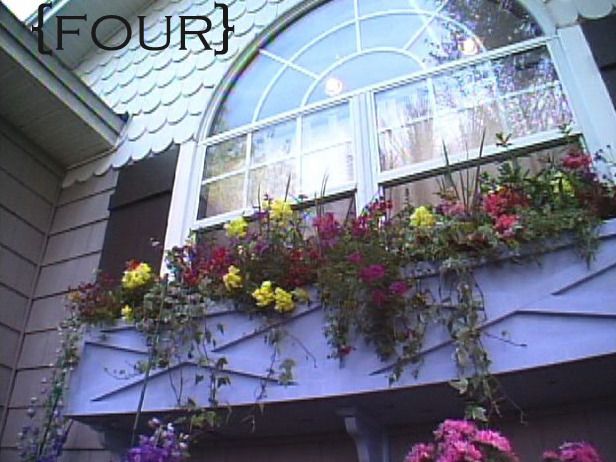 Pressure treated plywood is another option for constructing outdoor window boxes. DIY Networkshows how to dress up a simple built box with 1×1 decorative molding. The only tools required for this type of planter is a drill and saw.
5: Arch top window box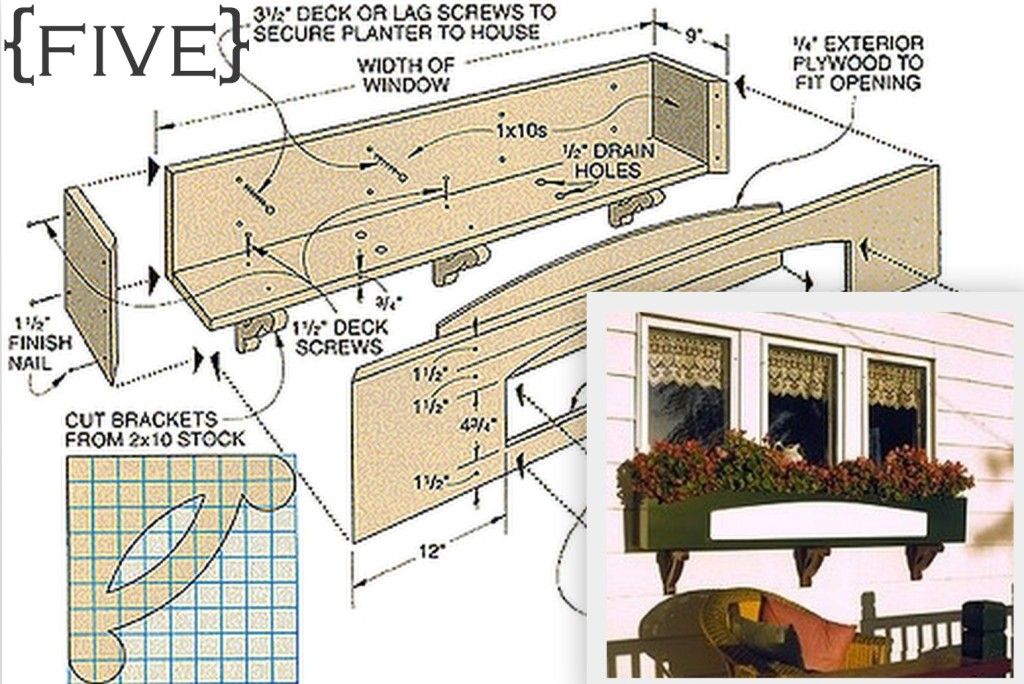 Better Homes and Gardens provides plans for another window box planter design based off the initial construction of a simple box. For a decorative touch an arch top opening is cut on the front panel of this planter and backed with exterior plywood.
6: Red ceder window box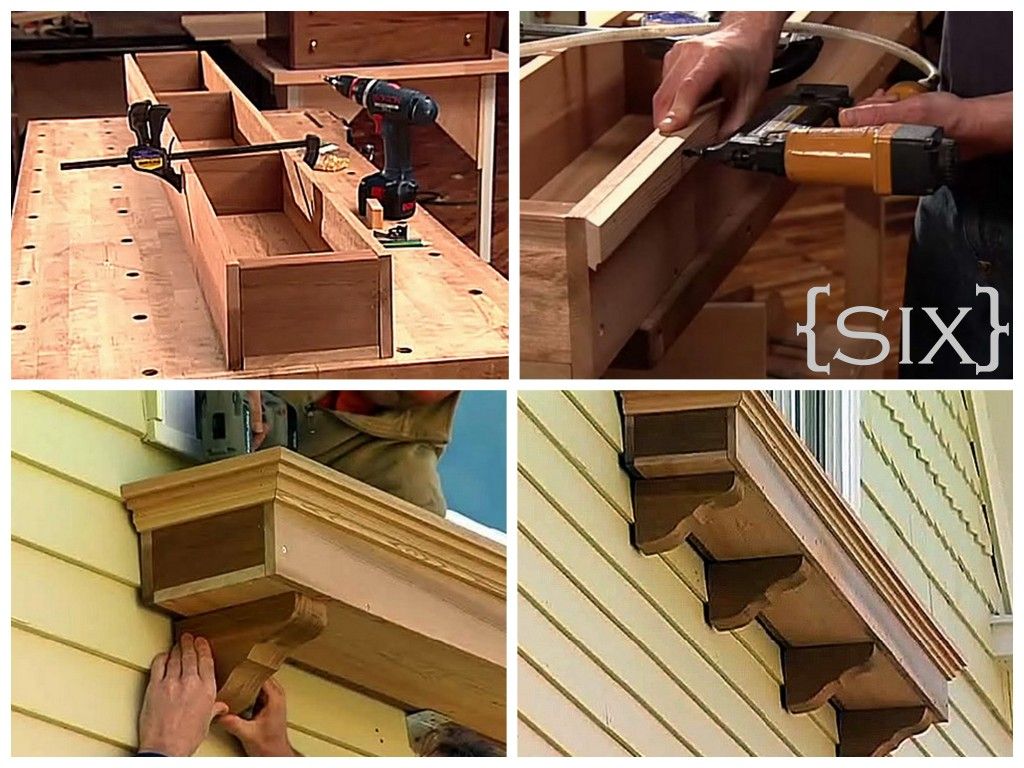 These easy rated flower boxes from Renovate Your World call for naturally weather and insect resistant red cedar and can be completed in just a day. The simplistic box design is topped with three layers of trim molding and finished with four sets of hand cut corbels. The site clearly details each step by step instruction along with printable pdf plans – they also have a video as well.
7: Box and tray window box

Out of all the plans, I really like this concept from Home Hardware that provides use for the window box year round. The two piece construction consists of a planter box as well as a separate tray – which allows for beautiful flowers during the warmer months and a spot for creative displays during the fall and winter.
8: Simple Shelf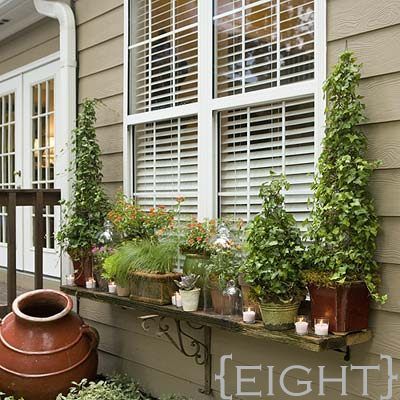 If wood working is not your cup of tea, the beauty of flowers on your window sill can still be enjoyed with this simple shelf idea from Southern Living.
And the last two designs are window box alternatives that not only display pretty flowers but also showcase the containers as well. These simple window planting racks can be crafted in less than an hour and are designed to help take the worry out of standing water and wood – which usually do not go well together.
9: Potted plant shelf

The Family Handyman version is constructed from just three pieces of wood and the plans are sized to fit three 6 inch pots – though it can be altered to your liking. A common jigsaw is used to cut the circles.
10: Potted plant shelf 2.0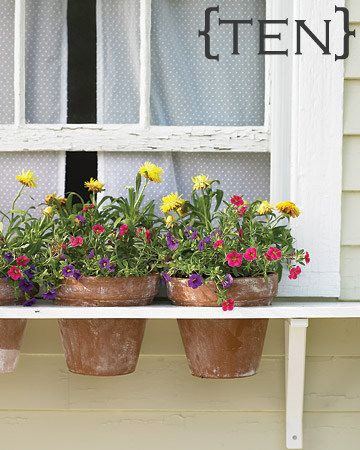 The second version, from Martha Stewart, simply uses a 1 x 12 inch board and a couple of brackets. The directions include the calculations to use for cutting the holes – which are suggested to be cut using a circle cutter. Great project for showing off your weathered terra cotta.
Be sure to call The Window Source of Des Moines for all of your replacement window and door needs!
For more articles click here!