28 Inviting Colors to Paint a Front Door
Try a splash of gorgeous color to boost curb appeal and make your front entry more welcoming.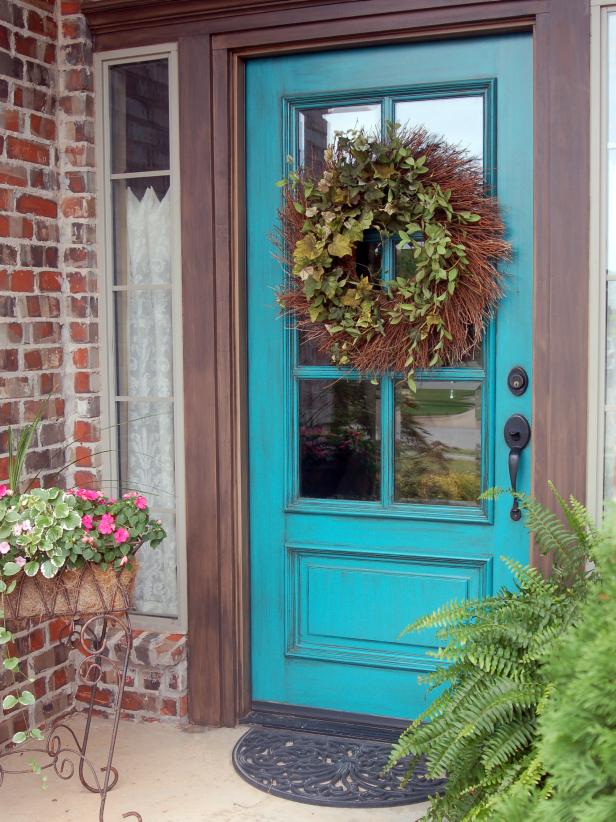 Cool Turquoise
Inspired by an antique cabinet she saw, Sonya Hamilton painted her own front door a brilliant blue-green and applied a glaze to mute the effect. The color is Sherwin-Williams Nifty Turquoise.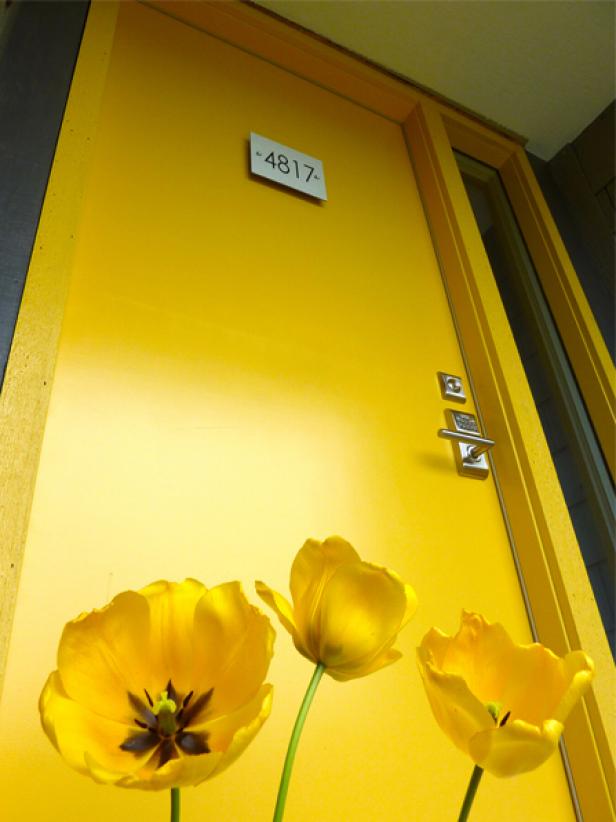 Burst of Sunshine
You just can't sustain a bad mood in the presence of a bright yellow door. This one is set off by charcoal-gray shake siding and a decal applied to the glass sidelight that says sweetly, "Hello."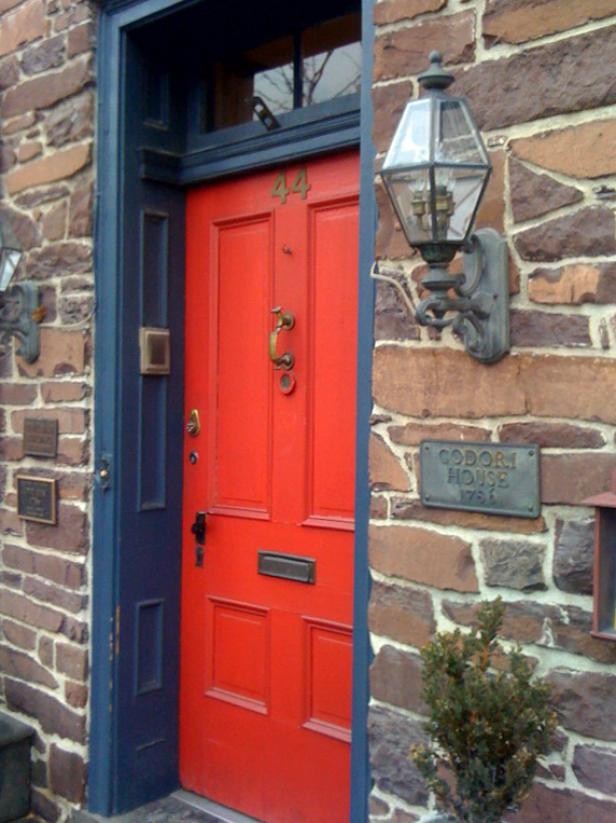 Statley Red
The strong ocean blue and bright red shown here hold their own against the color of the exterior stone. This color combo is bold but still classic — it complements the historic feel of this home without imparting an ounce of stuffiness.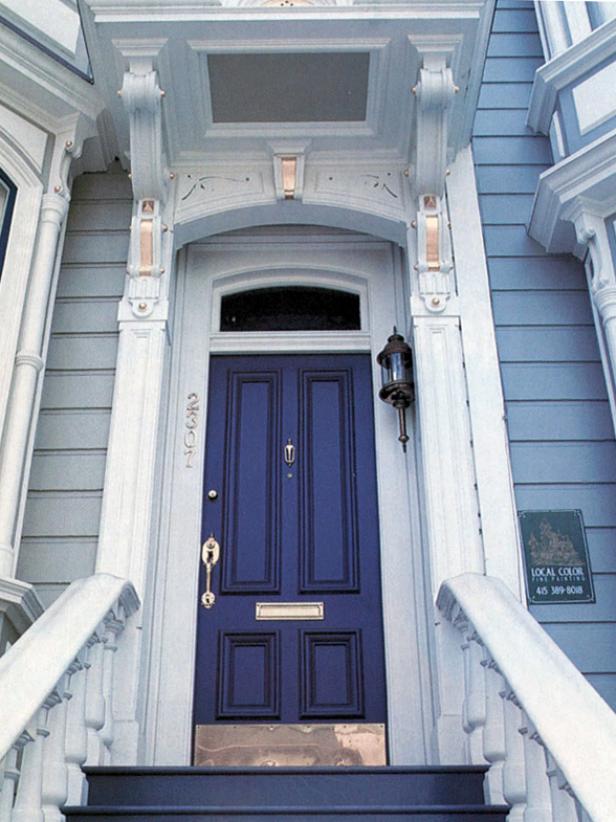 Elegant Indigo
A Victorian home is a license to indulge in brilliant paint and trim choices. "This style of architecture has so much detail that it takes a dark or bold color to draw your attention to the front door as a focal point," says Jackie Jordan, director of color marketing for Sherwin-Williams. This shade, Sherwin-Williams Indigo, harmonizes with the copper trim above and the brass hardware and kick plate below.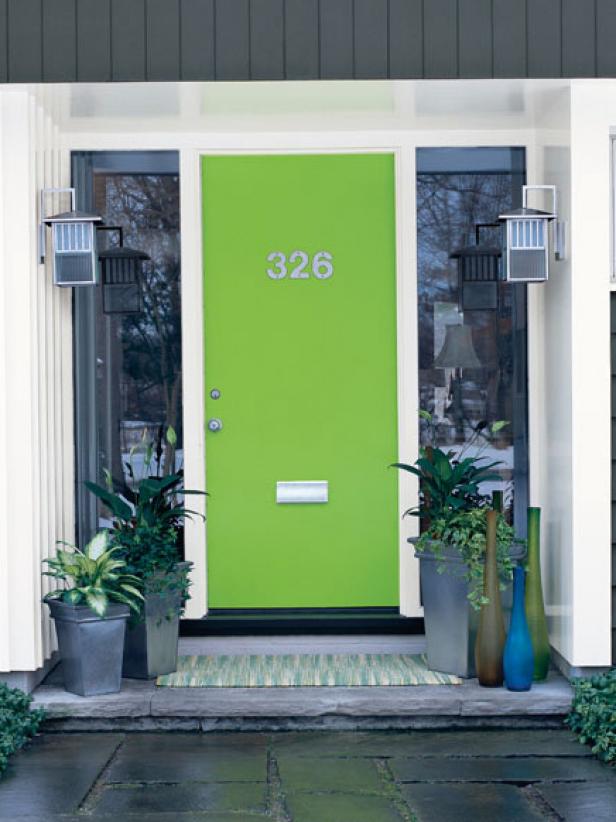 A Slice of Lime
It's hard to resist painting a contemporary door an acidic shade, like this delicious Overt Green by Sherwin-Williams. The simplicity of the door — which isn't interrupted with panels, windows or other details — acts as a great blank canvas to apply bold color.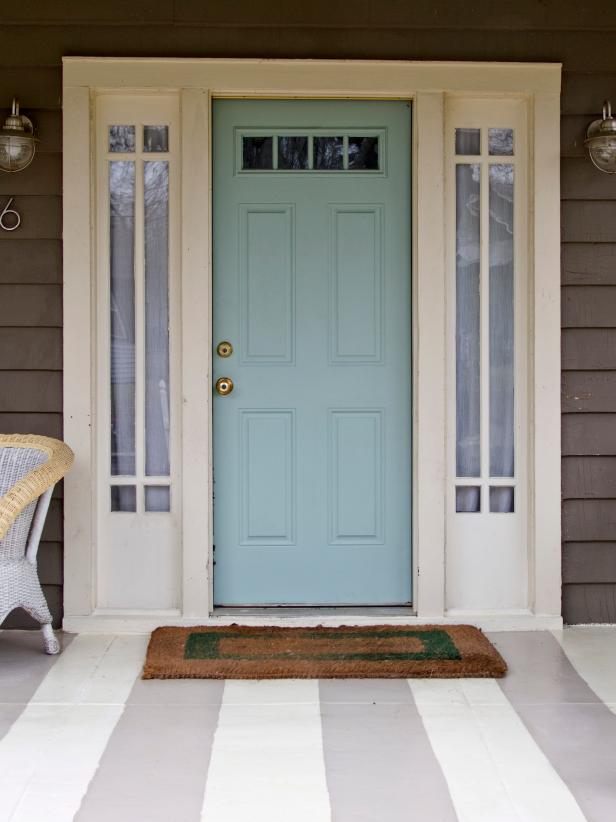 Powder Blue Meets Stripes
Blogger Ellen Mallernee Barnes got so inspired while she was painting her front door blue — that's Benjamin Moore's Wythe Blue — that she decided to go all out with porch stripes. Those colors are from Sherwin-Williams: Perfect Greige and Antique Ivory. "It turned out so fun and bright," Barnes says. "I love pulling into my driveway now."
Energetic Orange
The color orange is associated with vibrant energy. For that reason, orange can be hard to pull off — but pairing it with a cool gray exterior keeps the mood balanced and bright.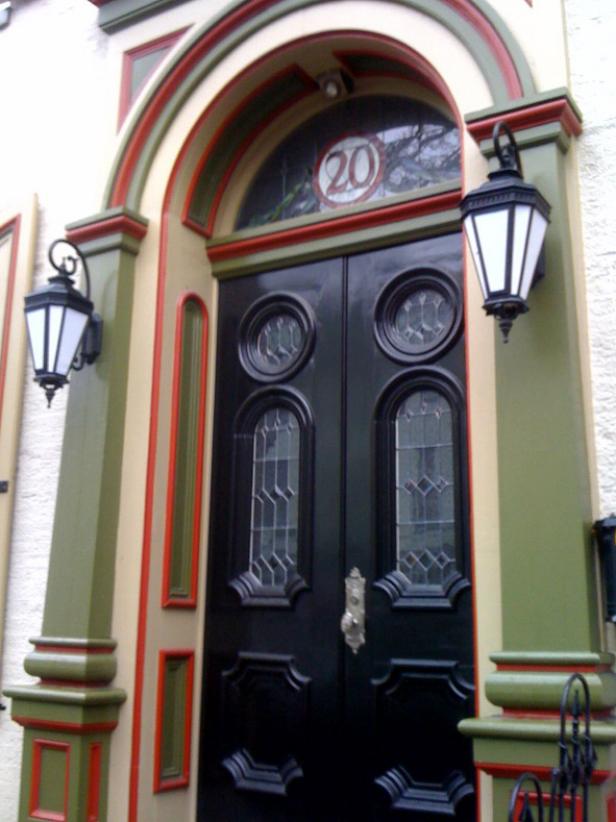 Black Ink
There's just something about a glossy black door — it's elegant, bold and impossible to ignore. But it makes an even bigger statement with the right trim. Here, the black entrance door of this historic home is enhanced with accents of olive green, cream and red.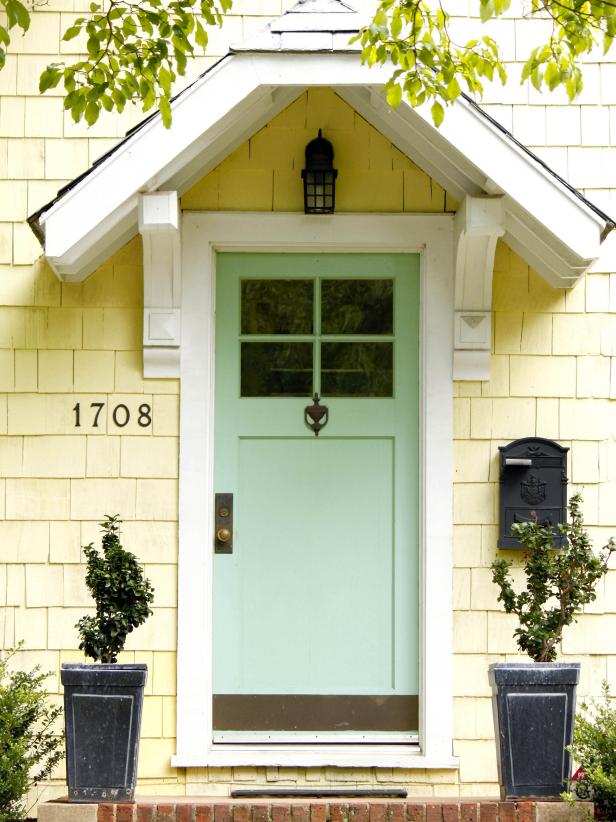 Minty Fresh
This confection of a front door was snapped by DIY blogger Brittany Bailey on a neighborhood stroll. The pale Jordan-almond color is a close match, she suggests, for the Sherwin-Williams shade Aqua Tint.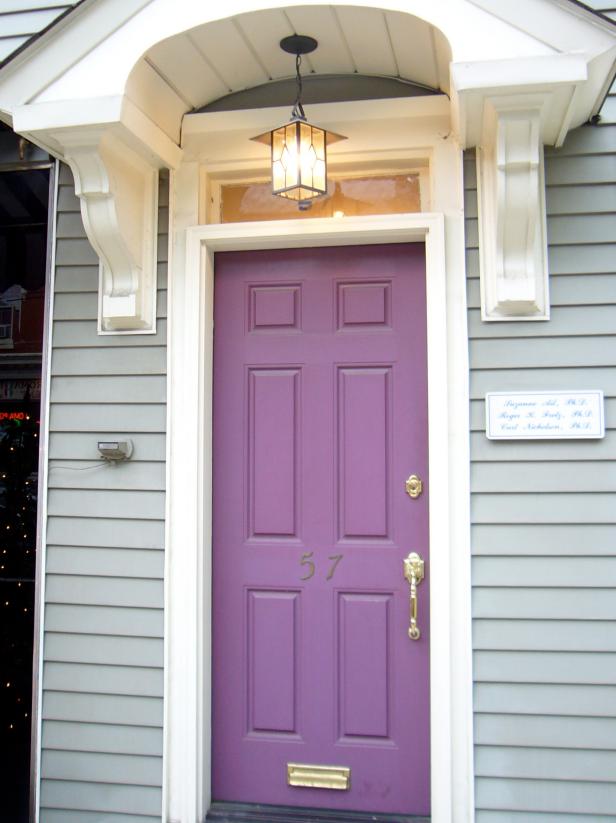 Soft Grape
Nontraditional colors can trigger an emotional response. This can be used to your advantage in making your home feel more approachable. This purple door adds just enough whimsy to put visitors at ease.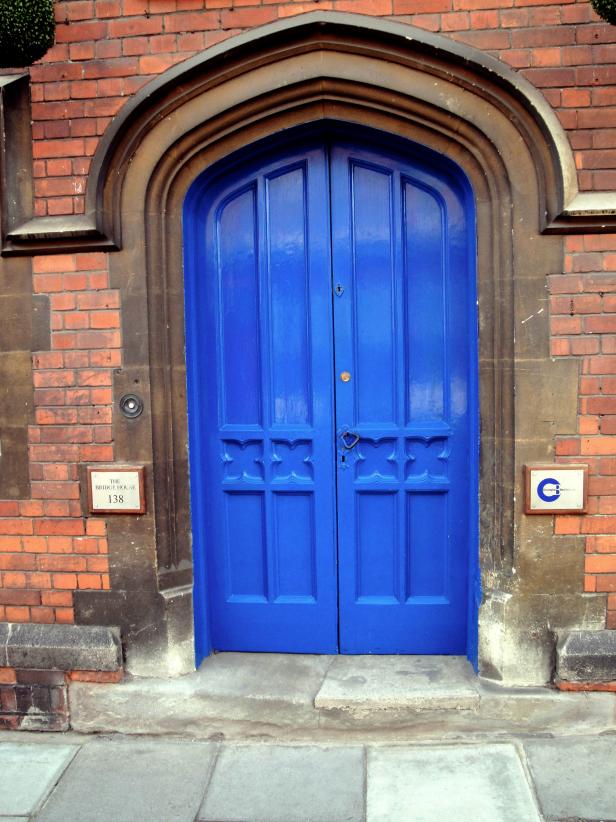 Bold Blue
Got a stodgy brick façade on your hands? An electric blue front door will certainly breathe some life into the picture—and knock your neighbors' socks off.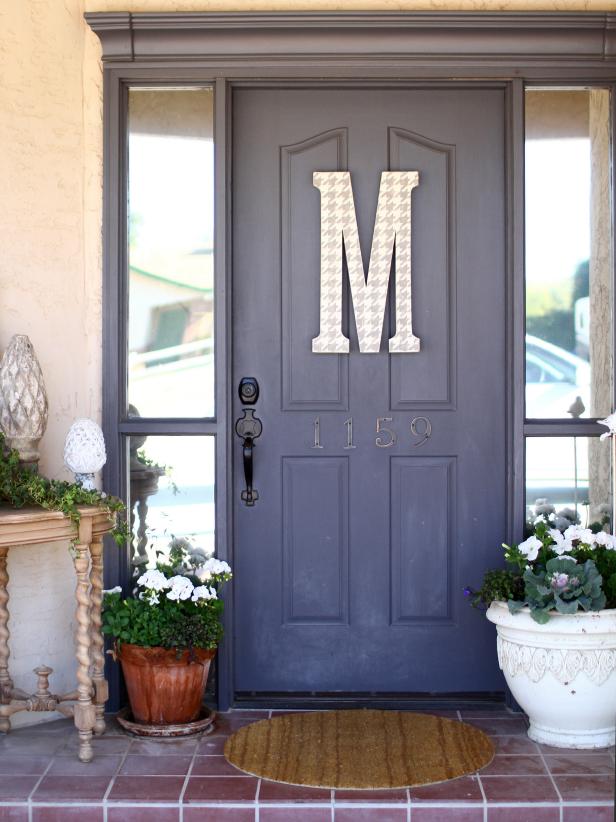 "M" Is for "Marvelous"
If you're going to paint your front door, why not go all out? Give your door a much-needed makeover with a strip of crown molding and a can of Benjamin Moore paint . Then you can take it up a notch by painting a houndstooth pattern on a papier-mache "M" from a craft store in a lighter shade of gray, distressing it with sandpaper and attaching it to the door to achieve the final look.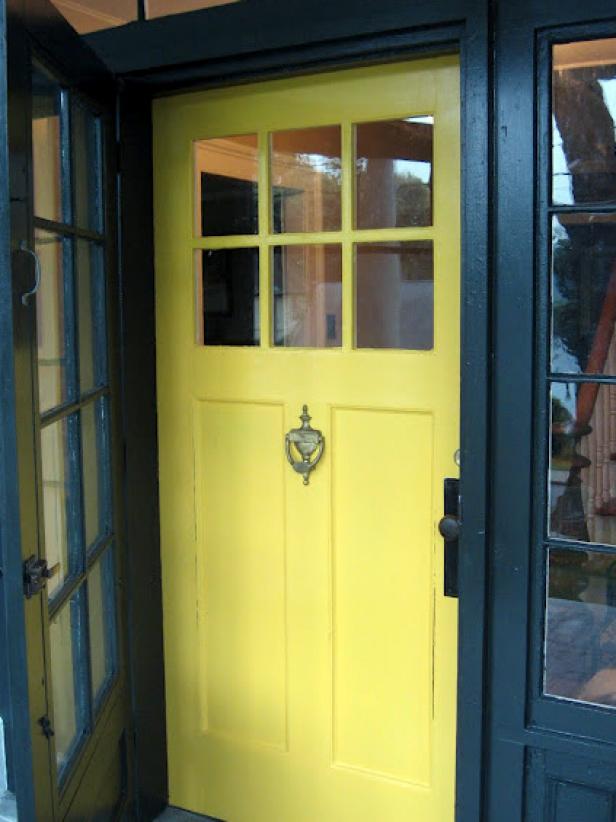 Sunny Yellow
Cass, blogger from That Old House, describes the hue of her front door as "summer squash yellow." It's actually Benjamin Moore Imperial Yellow, which pops out like a happy surprise from behind the charcoal-colored screen door frame and trim.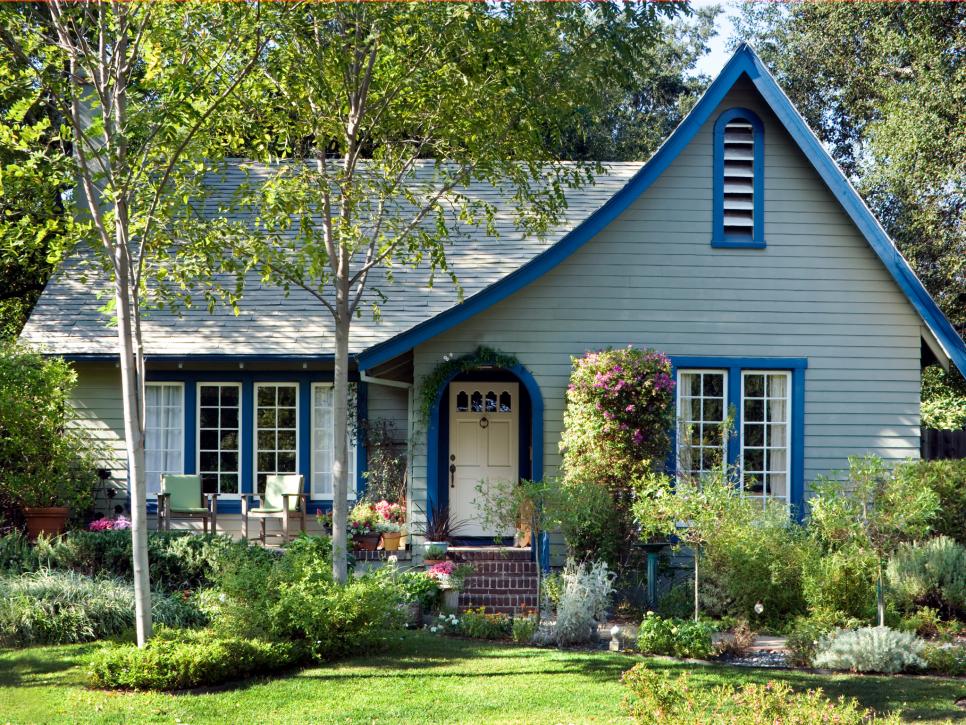 Cottage White
White is a versatile choice for a front door. A bright white can add pop to a blah exterior, while a softer white such as Behr'sCotton Fluff can bring things into balance, as it does for this cottage's welcoming entrance.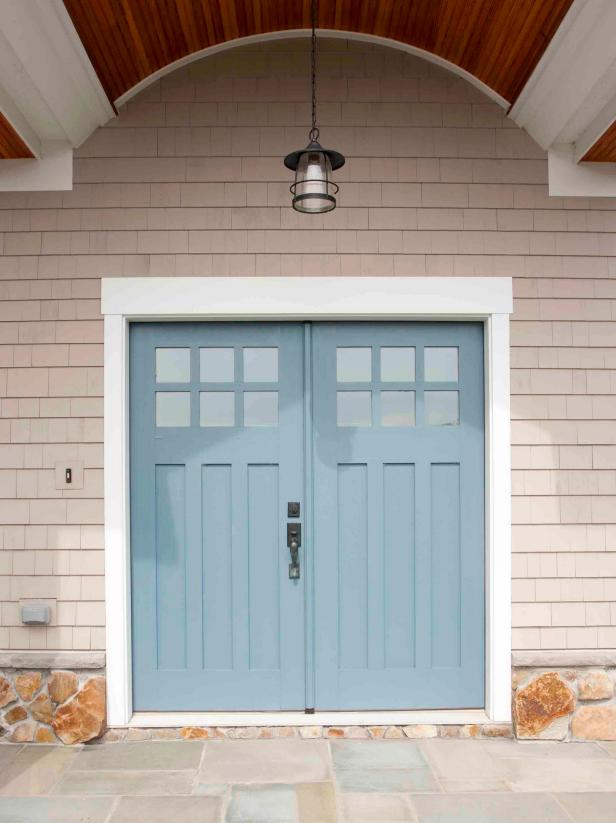 Easy on the Eyes
This cool grayish-blue (Behr's Oslo Blue) makes a great complementary pairing with the warm neutral palette of the surrounding house. The color also echoes the soft blues on the stone porch.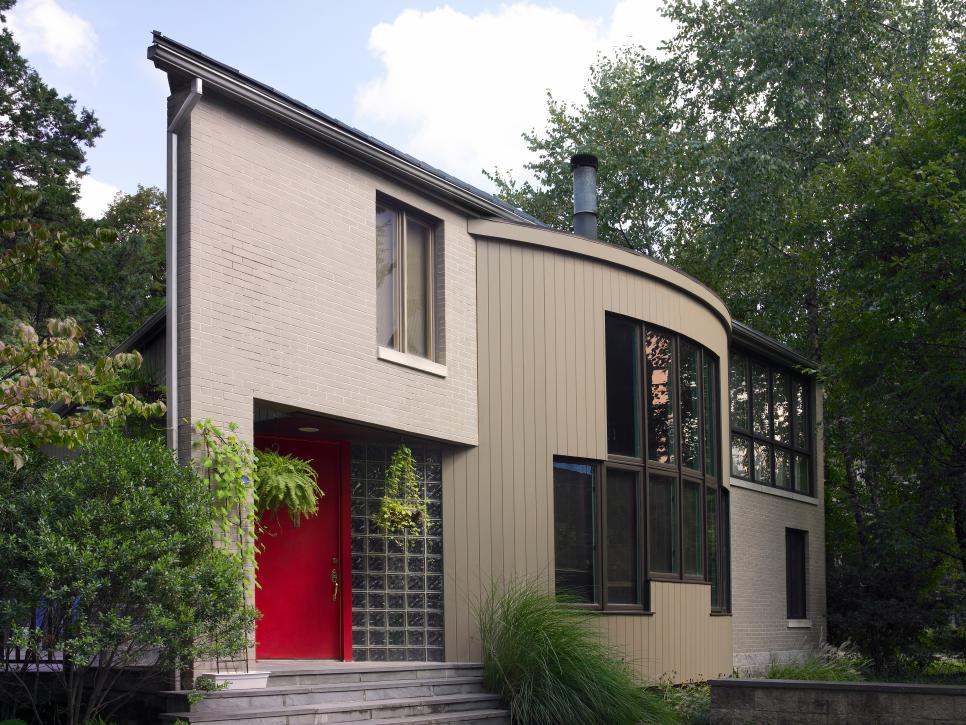 Candy Red
A red front door may seem awfully dramatic when you're looking at paint swatches, but don't fear it. Red is such a popular way to add interest to a neutral exterior that it's now considered a classic choice. This shade, Behr Licorice Stick, is a source of energy and an instant cure for "the taupes."
In the Navy
This deep, rich blue shows off seasonal décor to great advantage.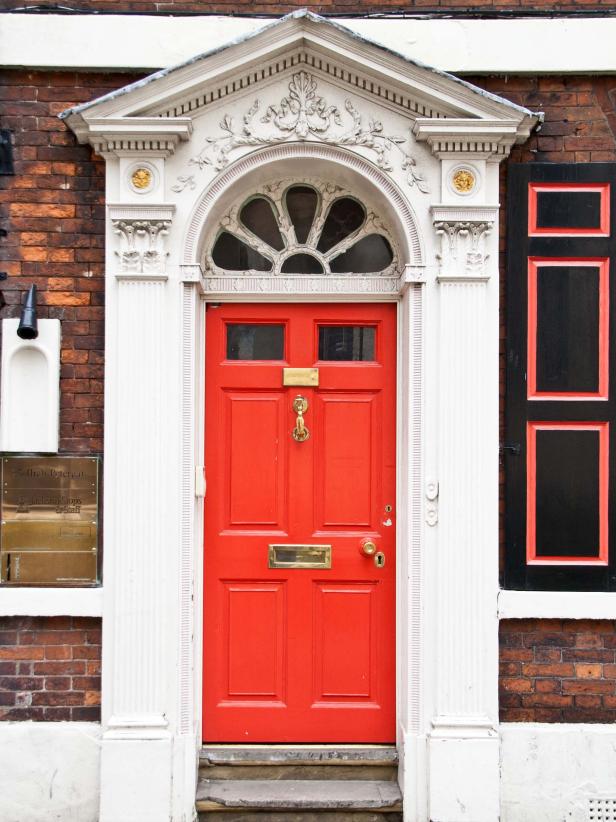 Eye Candy
Everybody knows and loves the classic red front door—but the shade people usually pick is cranberry, which has blue undertones. To turn the temperature up a notch, push your red towards orange instead. As shown here, it makes a totally unexpected but satisfying pairing with weathered brick.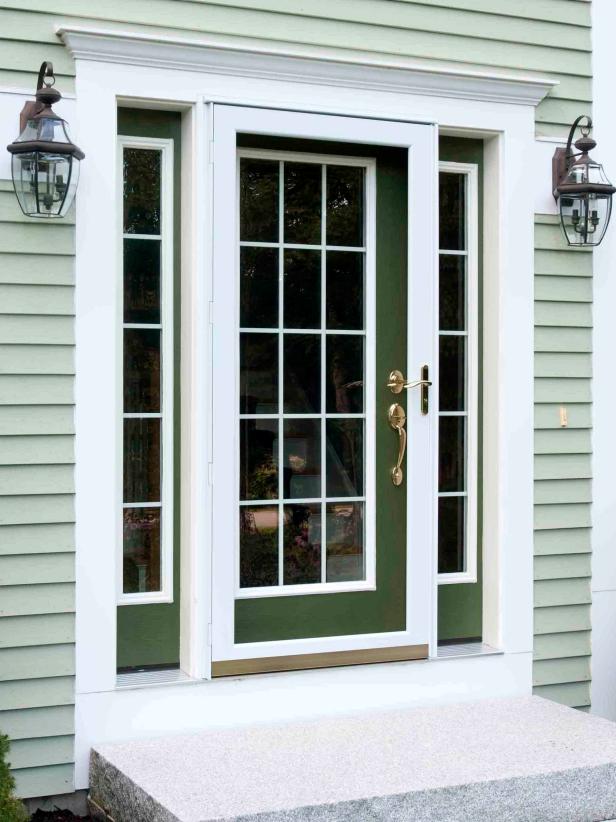 Tone on Tone
Your front door color doesn't have to be high-contrast to be beautiful, especially if your house is already a distinctive color. This door — painted in Behr's Tuscany Hillside — deepens the effect of the green siding without making the look too busy.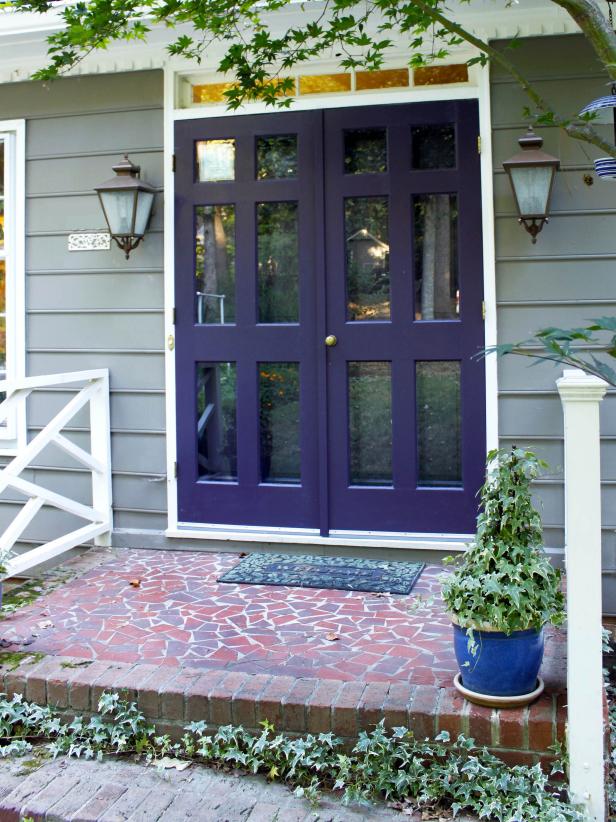 Grape Expectations
DIY blogger Brittany Bailey knows a thing or two about home improvement, but for this project she didn't have to lift a finger. She inherited this purple front door from the previous owners of her home and decided to keep it as is. The color, unique to Bailey's neighborhood, pops against white trim and also picks up the color in the mosaic tile on the brick porch.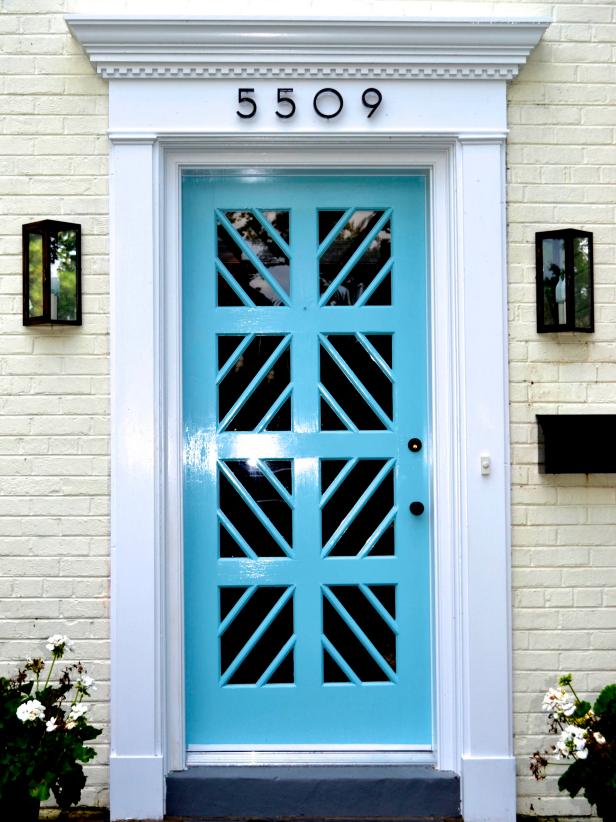 One of a Kind
Interior designer Lucy Williams helped pair one of her clients with a local custom millwork company to create this fabulous wood door. The intense turquoise color makes a strong statement against soft yellow brick, especially flanked by mirror-backed lanterns on either side.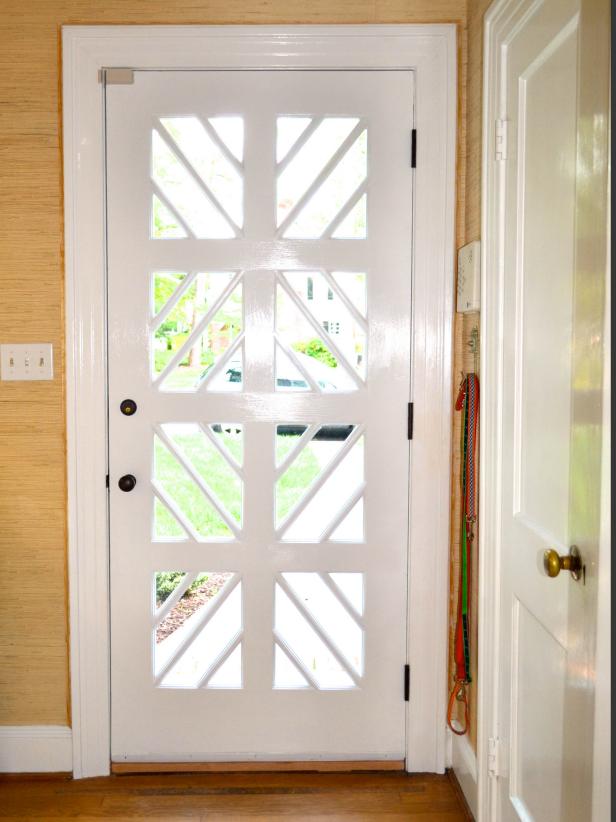 The Flip Side
Don't be afraid to commit to a front door color just because it won't work in your living room! The turquoise door shown in the previous photo was painted white on the reverse side to keep the foyer calm and neutral.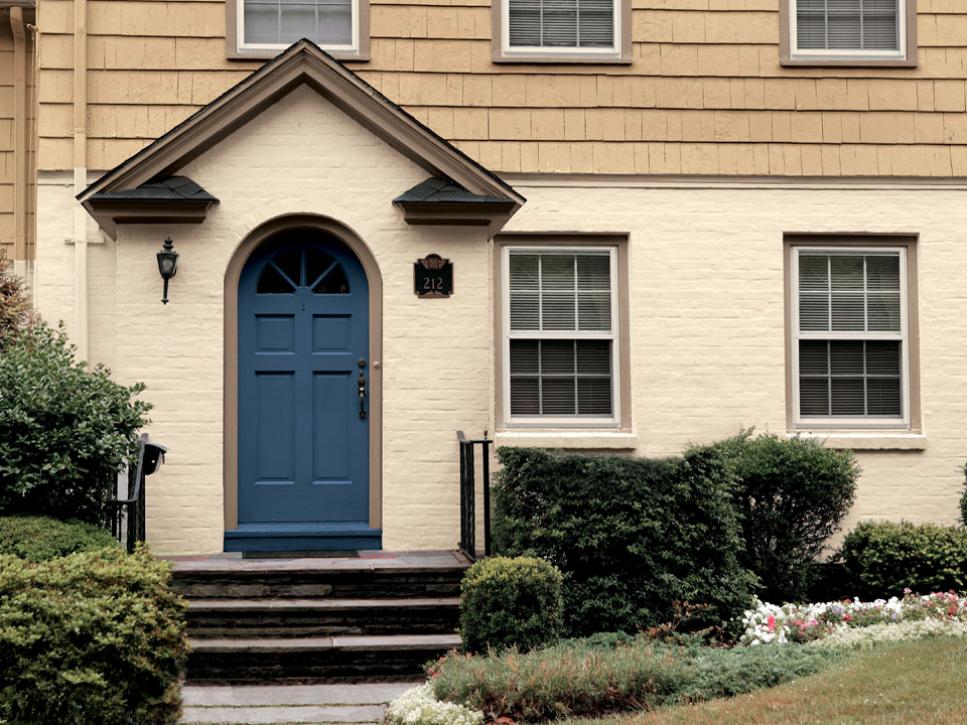 Sea Blue
A saturated blue door keeps this two-toned house from fading into the landscape, but it still maintains a traditional feel.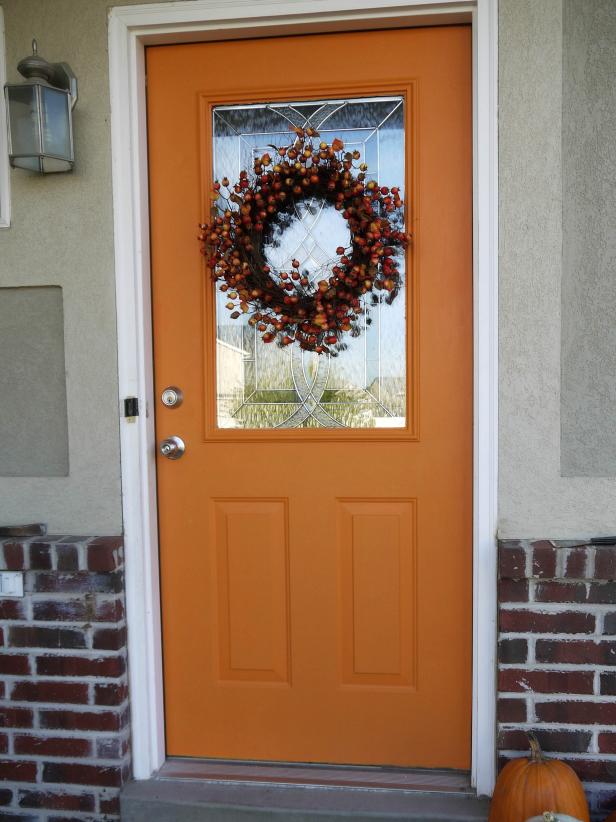 Spicing Things Up
A photo in a magazine inspired crafts and décor blogger Korrie Bastian to paint her front door a warm orange. The tasty pumpkin-pie color is Behr's Maple Leaf.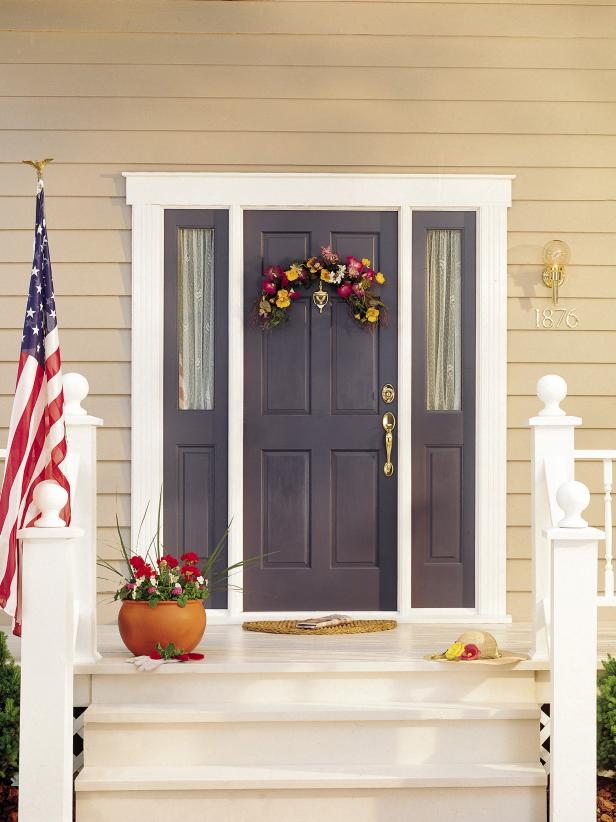 Put It in Neutral
If your house is a neutral color but you're squeamish about bright hues — not everyone can handle a candy-apple red or a neon green front door — try a paint color that is also neutral but has the opposite "temperature." That is, choose a warm door to go with a cool house, or vice versa. Here, taupe siding with warm yellow undertones is nicely complemented by a charcoal gray with a cool bluish vibe.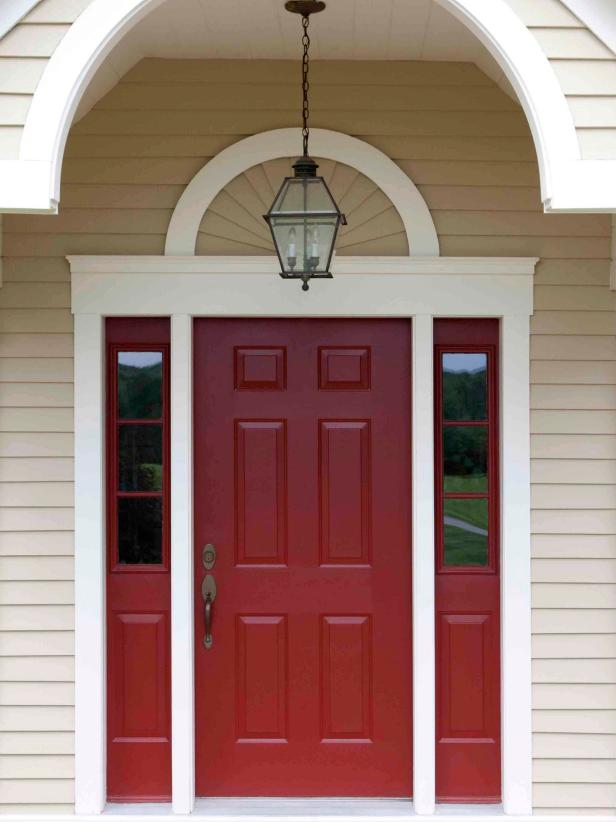 Classic Red
You can't miss with a blue-toned red, which is so ubiquitous it's practically a neutral these days. Shown is Behr's Morocco Red — it's like a cherry on top of the vanilla siding sundae.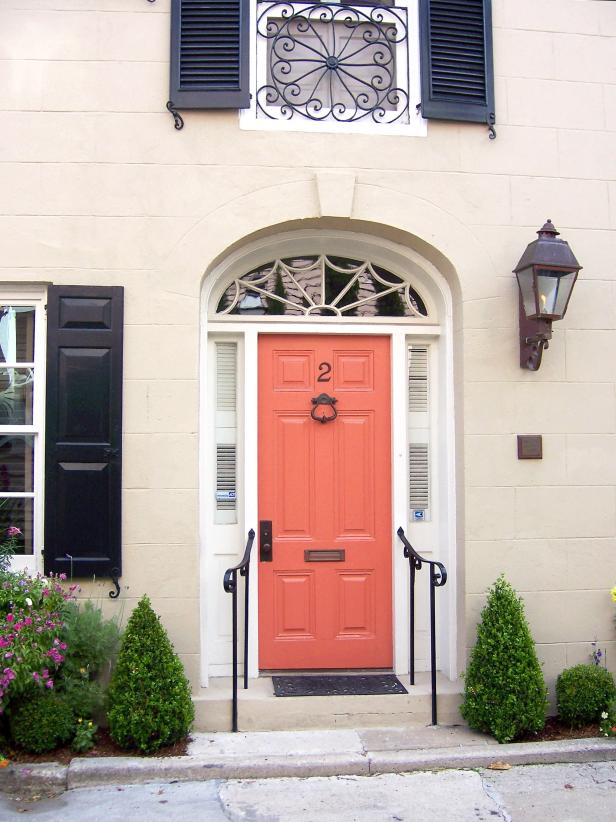 Look To Fashion
You might think coral pink would be a tough color to pull off, but it looks right at home paired with a pale cream brick. A pinkish-orange is a good companion for any neutral siding color — witness the recent fall fashion trend of salmon paired with olive green.
Green Light
According to Feng Shui principles, you can't go wrong with green, the color of balance and renewal. Don't worry that it will blend in with your landscaping—using green can actually draw out the different shades that are found naturally in your yard. The saturated hue shown is Behr's Precious Emerald.