15 Simply Stunning Summer Window Box Recipes
Don't let sweltering temps get you down! Plant these heat-tolerant blooms for colorful curb appeal all summer long.
Window Candy
Bright and playful, this lush window arrangement takes summer curb appeal to an eye-catching new level.
1: petunia 'Supertunia Royal Magenta'
2: bidens
3: geranium
Pretty in Pink
A pretty alternative to roses, pink tuberous begonias add soft color to this ivy-covered facade.
1: pink tuberous begonia
2: pink petunia
3: purple dracaena
4: English ivy
Salad Garden
Keep a fresh supply of salad-worthy greens and herbs on hand all summer long with a window box that pulls double duty as a curb appeal booster and lunch!
1: lemon thyme
2: 'Green Frills' lettuce
3: Romaine lettuce
4: thyme
5: tarragon
6: purple basil
7: lemon basil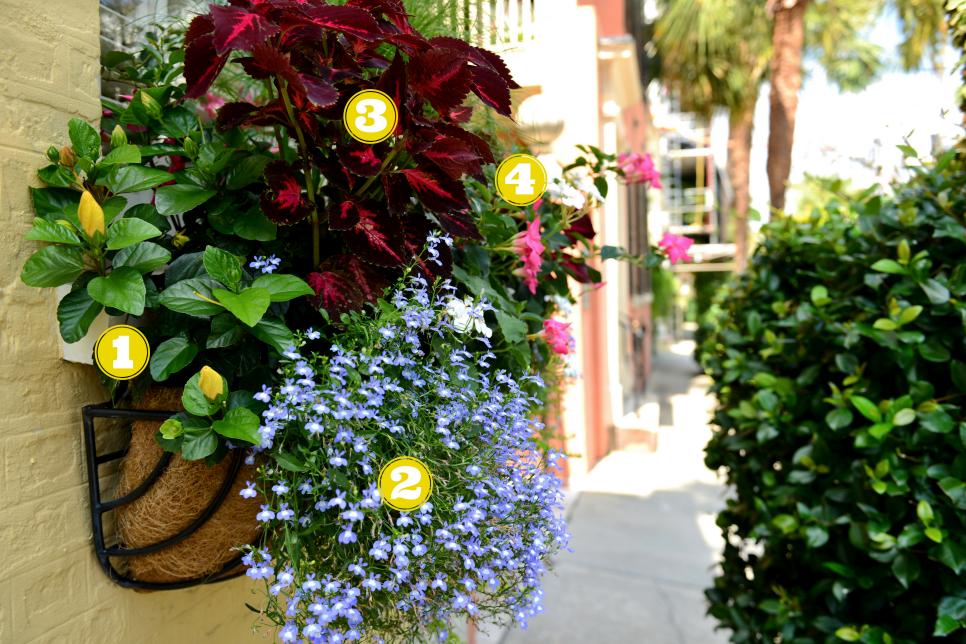 Warm-Weather Staples
Add a taste of the tropics to your front porch with brilliant pink mandevilla and cheery yellow hibiscus.
1: yellow hibiscus
2: lobelia
3: coleus
4: pink mandevilla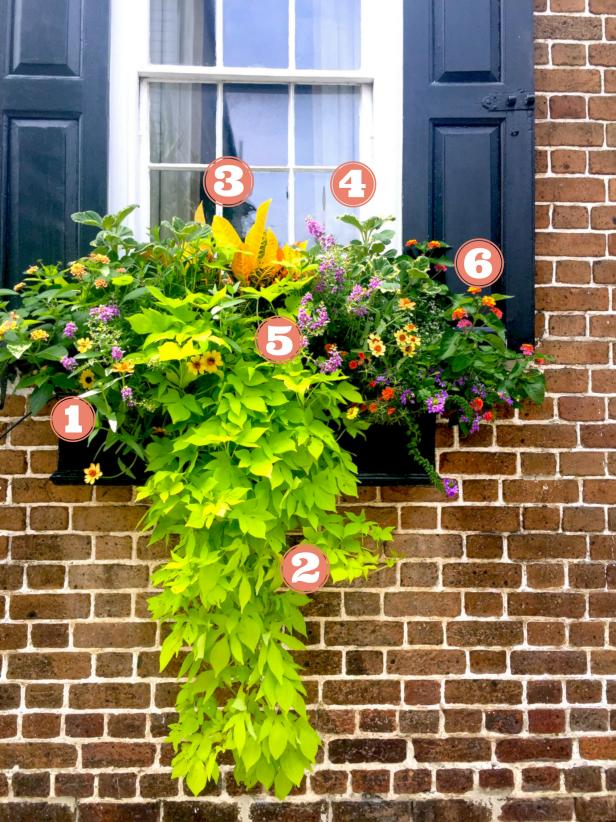 Sweet Potato Envy
Whether planted alone or with other fun summer blooms, bright green sweet potato vine is a set-it and forget-it spiller that never disappoints.
1: sanvitalia (creeping zinnia)
2: sweet potato vine
3: croton
4: gold variegated plectranthus
5: angelonia
6: lantana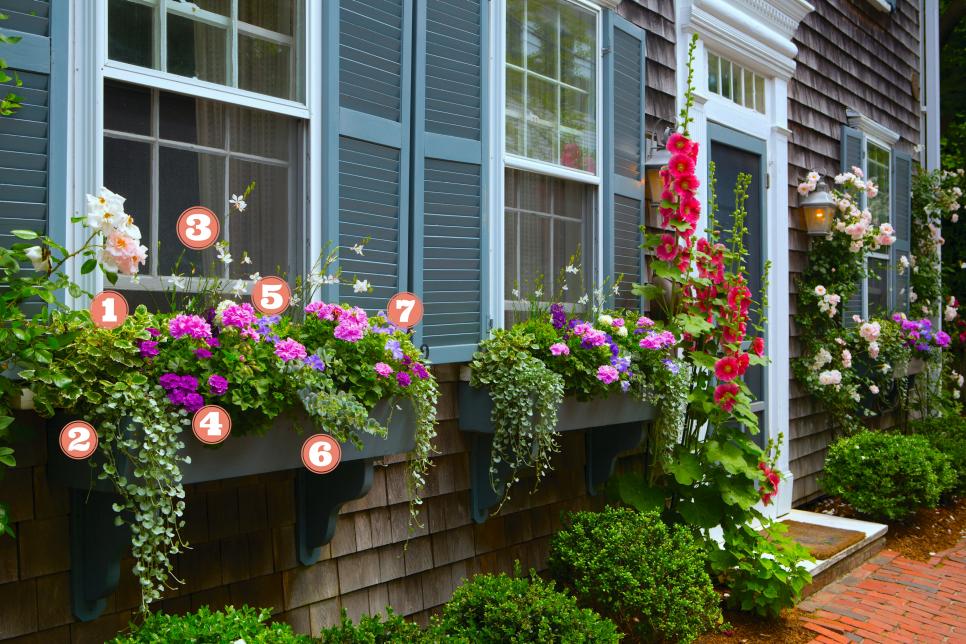 Fairytale Florals
Transform your home into a dreamy summer escape reminiscent of your favorite storybook locale.
1: gold plectranthus
2: 'Silver Falls' dichondra
3: gaura
4: verbena
5: geranium
6: silver dollar eucalyptus
7: petunia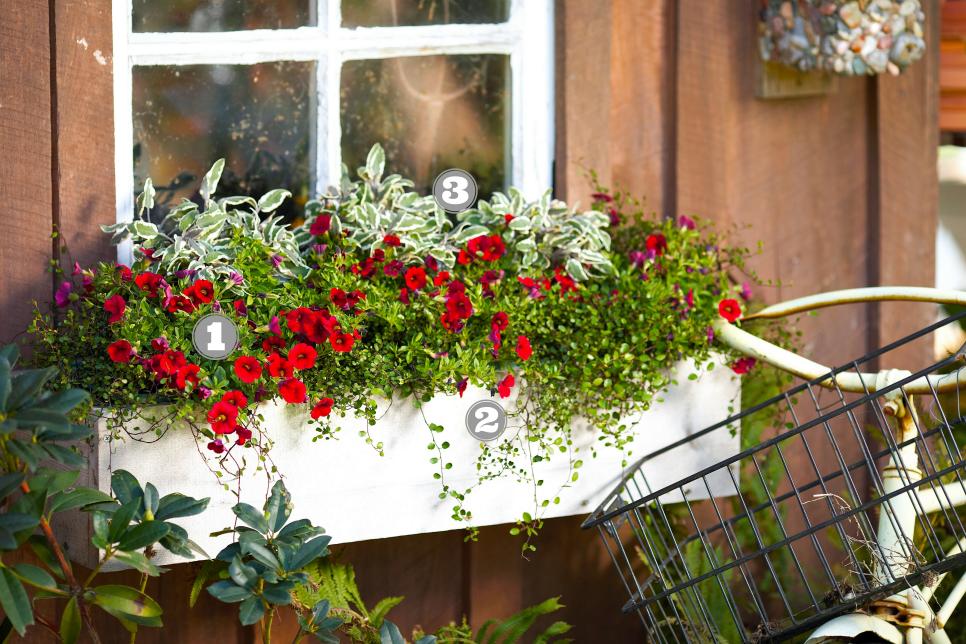 Country Cottage
Pull off rustic charm in the heat of the summer with easy-to-care for sage, million bells and dainty wire vine.
1: million bells (calibrachoa)
2: creeping wire vine
3: tricolor sage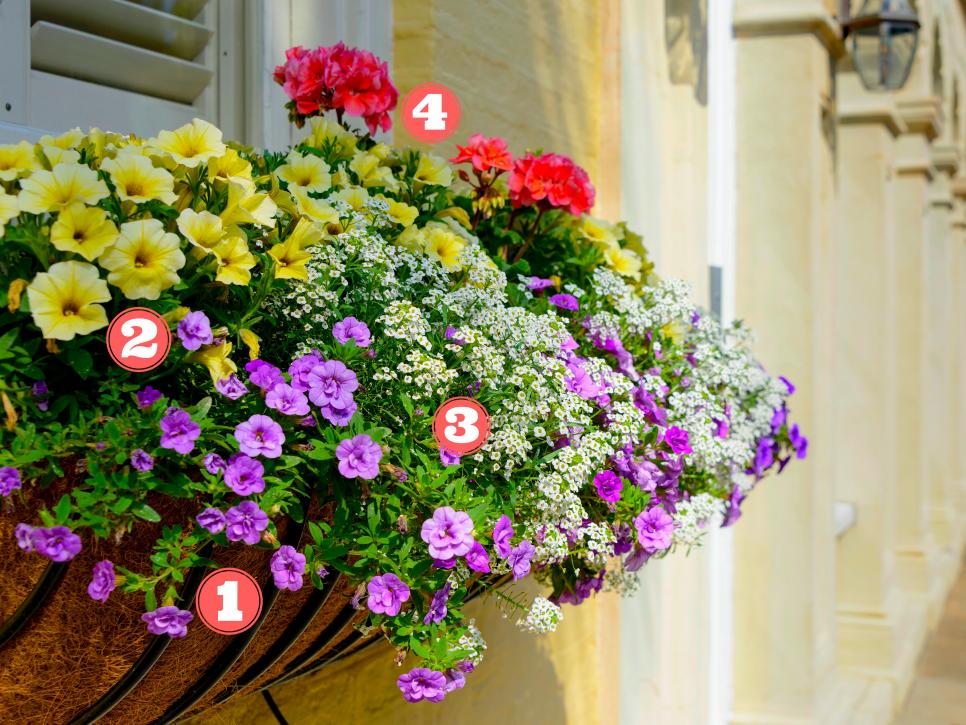 Classic Showstopper
Who says classic is boring? We adore this lush arrangement stocked with all of our favorite warm-weather staples.
1: double calibrachoa
2: petunia
3: sweet alyssum
4: geranium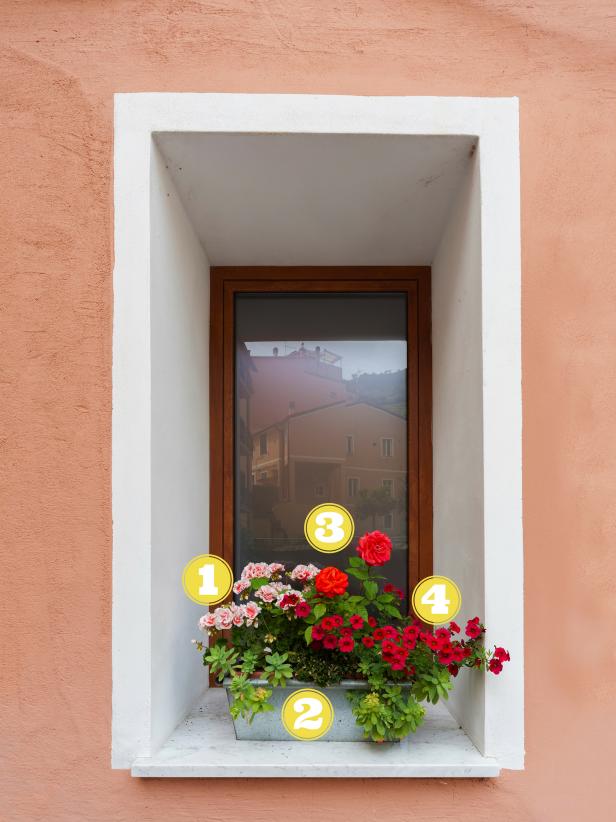 Shades of Red
Add a touch of sophistication to your curb appeal with a sultry mix of opulent red roses and pink geranium.
1: geranium
2: echeveria
3: rose
4: million bells calibrachoa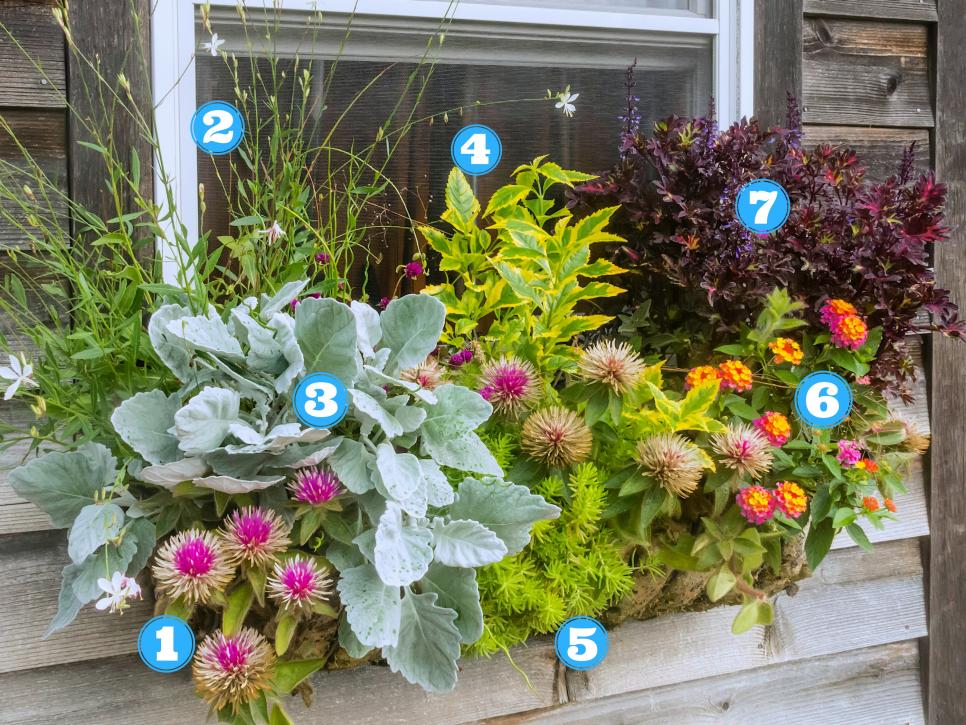 Wild Mix
Master the "bed head" look by stuffing your window boxes with low-maintence guara, bright yellow sedum and striking pincushion flower.
1: pincushion hakea
2: gaura
3: dusty miller 'New Look'
4: Gold Edge duranta
5: Lemon Coral Sedum rupestre
6: lantana
7: coleus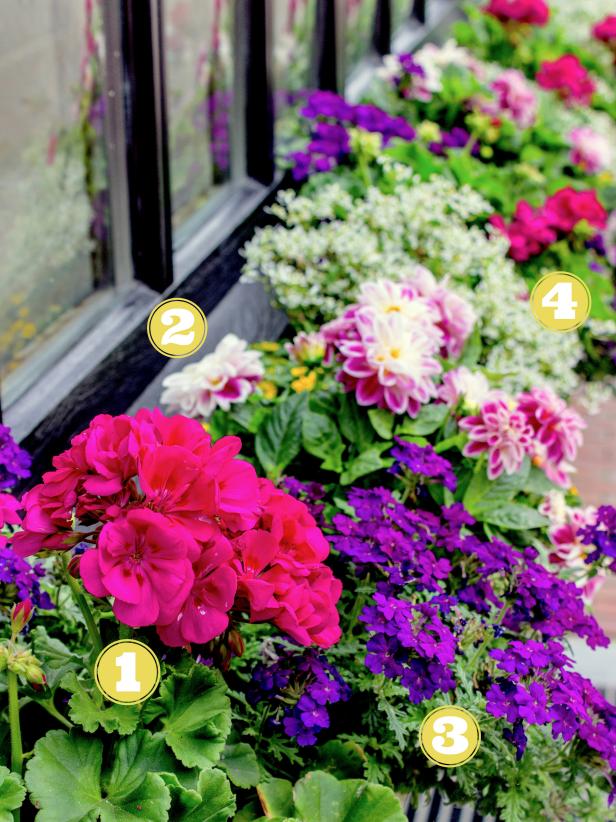 Dreamy Dahlias
At their peak prowess in late summer, show-stopping dahlias thrive in sunlight and well-drained soiled. Plant with other summer blooms like geraniums and Diamond Frost euphorbia for beauty that will last until first frost. 

1: geranium
2: dahlia
3: 'Homestead' verbena
4: 'Diamond Frost' euphorbia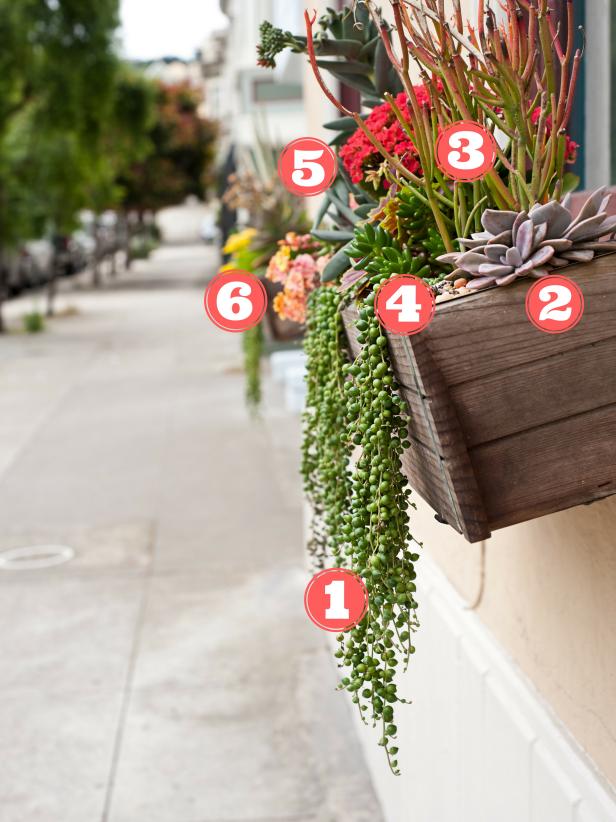 Summer Succulents
Stocked with rich color and unequivocable texture, what's not to love about succulents?
1: 'String of Pearls' (senecio rowleyanus)
2: 'Perle von Nurnberg' echeveria
3: 'Sticks on Fire' euphorbia
4: jelly bean sedum (S. rubrotinctum)
5: red kalanchoe
6: crassula hybrid
Simple Yet Sexy
Sometimes the prettiest arrangements are the simplest. Keep the color going all summer long with low-maintenance creeping zinnia and shade-loving tuberous begonias.
1: tuberous begonia
2: sanvitalia (Mexican creeping zinnia)
Be sure to call The Window Source of Des Moines for all of your replacement window and door needs!
For more articles click here!